Another month has come and gone. I swear each one goes by quicker and quicker… or do I just keep getting busier and busier? Well, I won't complain too much since the end of March is going to bring us closer to some warmer weather : ) I'm pretty excited to start pumping out some fun, bright flavored desserts! And April is going to be nice and festive with Easter and all. I have a couple recipes that I can't wait to share with you that just scream SPRING and EASTER to me : ) Here's a little bit of what I've found online this week to get you amped for the Holiday!
I just LOVE this. It's a delicious Italian yeasted bread with an Easter egg in the middle- so beautiful!
by The Italian Dish
This is a great way to do something easy for an Easter party- Deviled Egg Chicks! Plus some other fun ideas.
What gorgeous Easter bark! And so easy to make.
by The Browy Blog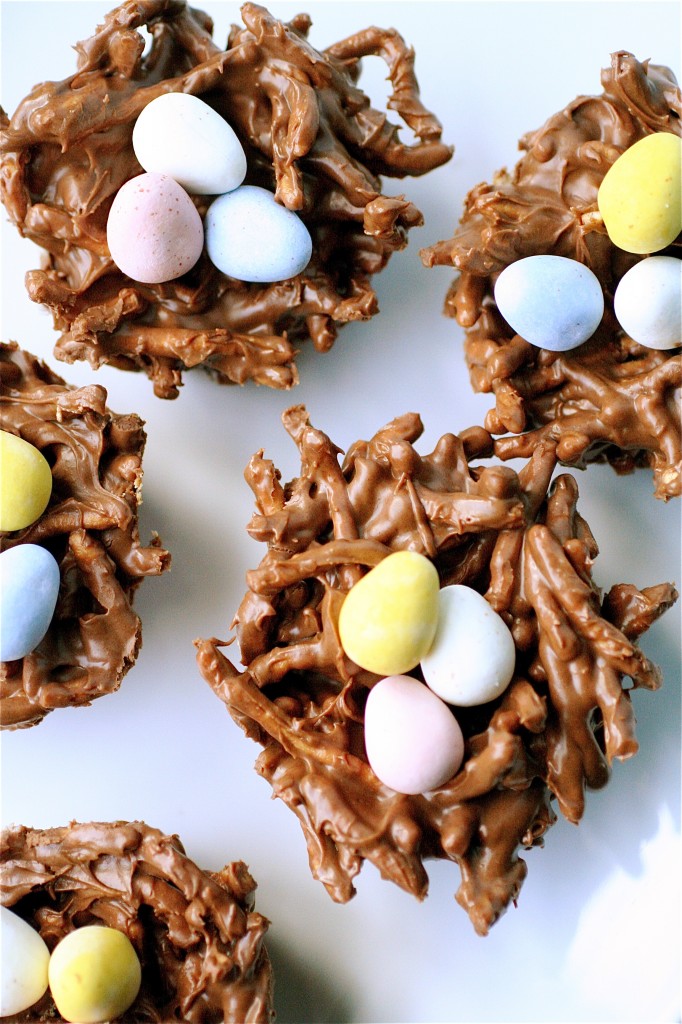 Cute little birds nest's that make a delicious treat!
by The Curvy Carrot
I used to have the same jello molds for Easter. I never did anything as neat as this with them though! What cute little Rainbow Eggs…
by Choose to Thrive
This Weeks Pick:
It was pretty hard to make a pick this week. All the recipes I shared were pretty equivalent in their deliciousness, one didn't really jump out at me right away like usual. It was between the Dutch Crunch Rolls, Sweet & Salty Brownies, and the Black & White Cookies. As you can see, I went with the Black & White Cookies. They are just so simple, yet very impressive. They come together with a basic creaming method, they are almost fool-proof. The frosting takes a bit of time just because there are so many cookies, but it's an easy job to do. Plus this recipe turns out some delicious cookies!
Technorati Claim # X3TZXC8YYEX2