Another wonderful Holiday is coming up SOON! I just love Holidays. There are always a ton of great get-togethers with family and friends- not to mention all the great food that always tags along! For the next week and a half I am going to be showing you some terrific 4th of July recipes that I have been whipping up in "pre-celebration". I have some really fun ones SO stay tuned!
A lighter healthier Baked Spaghetti. I just love simple casserole meals like this : )
by Bobby Deen
I can't get enough pasta salad sides in the Summertime. This Roasted Garlic, Olive, and Tomato Pasta Salad sounds divine!
by The Kitchn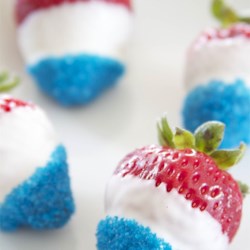 This isn't so much a recipe as just a FUN idea for the 4th of July. Seriously!? How easy is this??
White Chocolate Dipped Strawberries, double dipped in blue sanding sugar!
Another super simple 4th of July dessert- Fruit Kebabs with fun star shaped marshmallows!
by The Frugal Girls
One day I would really like to try this fun take on Jell-O.
Now here is a not-so-simple, but SO adorable idea! 3-D Cupcake Cookie!!
This Weeks Pick:
This is not so much a 4th of July type dessert, but it is definitely a summer dessert and it couldn't be simpler. Aside from the fruit, this Blackberry Cobbler recipe consists of simply milk, sugar, melted butter, and self-rising flour. SO EASY!!!!! And the end product is just divine- Sweet and moist with ooey-gooey baked fruit!