Another week here and gone! Every week I wonder how it's possible for me to be so busy doing nothing. I just don't get it. Oh well, I'd rather be filled with things to do than bored stiff… And boy, have I been busy baking this week! Still amped up on the whole "getting back into seasonal baking thing" again. I just love this time of year. Have you guys been enjoying your Fall flavors lately too?? : D
I've never thought of making apple cider into a cream pie! What a GREAT idea…
by Lootie and Doof
I love how you can add anything to brownies and it just makes them even better. LOVE brownies!
by Inside BruCrew Life
This is a great recipe for a healthy lunch- Emeril's Chicken Patty Pockets!
by Martha Stewart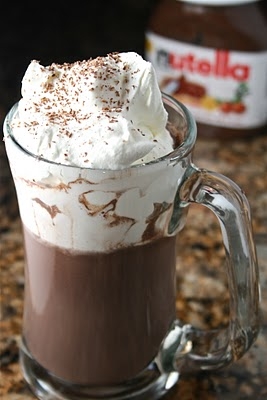 This is such a simple recipe for Nutella Hot Chocolate. I can't wait to make this!
by The Hungry Housewife
This Weeks Pick: You HAVE to try these pumpkin bars!!! They were such a delicious treat. And not too complex- a cakey pumpkin batter sandwiched between a simple caramel and chocolate chips. Ammmmmazing!