November is here!!! That means that I get to start making desserts and meals to share with you for the Holidays! I already have things all planned out…. lots of great side dishes for Thanksgiving, an abundance of pumpkin, and of course- PIE! I am carrying on my tradition from last year and sharing a pie recipe every Friday before Thanksgiving with you. This past Friday I shared a great Pecan Tassies recipe with you (although technically not a pie… but wow are they good!) I can't wait for you to see what I have in store for you : D
I just love a good brownie. This Chocolate Peanut Butter Chess Pie encases peanut butter in between brownie and a crunchy chocolate cookie crust.
by Love & Olive Oil
These Chicken Pillows sound SO good- wrapped in crescent dough with cream cheese, covered with crushed crackers and sauce. YUMMY!!
by Chef-In-Training
Ohhh I love baked brie! This Baked Brie in wrapped in puff pastry with a delicious apple compote.
 by Annie's Eats
Chocolate bark made with caramel and nuts- any guesses?? Turtle Bark!!! Love it!
by Bakers Royale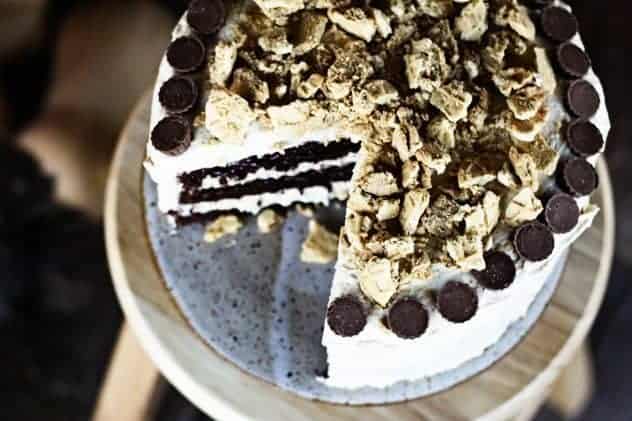 Chocolate and peanut butter lovers' delight! This is a perfect concoction of the two- Chocolate Nutter Butter Cake.
by Foodie with family
This Weeks Pick:
I made quite a few things this week that I would highly recommend… but one thing was just totally addicting for me- Pecan Tassies. Gosh, they were just SO wonderful! I made a half batch and ate the whole thing by myself within four days. I even froze some and ate them straight out of the freezer!! That's how badly I was craving these bad boys.