So, I am pretty excited. A few weeks ago I bought a Vitamix and I have just been going to town making delicious fruit and vegetable smoothies everyday. I feel SO healthy!! It was my "Thank you for having my baby alone in a foreign country" present from my Husband haha I've been wanting one forever and my dream finally came true. I can't wait to share some great smoothie recipes with you guys : )
I can't wait to make this fresh Strawberry Cake with Cream Cheese Swiss Meringue Buttercream this Summer when the berries are ripe!
by Oven Love
This Vanilla Cake claims to be one of the best- I am going to put it in my next Vanilla Cake Comparison.
by NlRock Recipe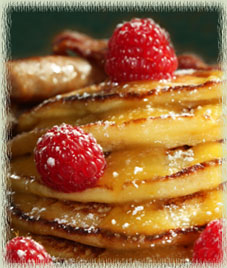 This recipe by Bobby Flay for Lemon Ricotta Pancakes with Lemon Curd sounds sooooo good! I bet they are incredibly moist and flavorful!
by Wine Imbiber
I am totally making this Slow Cooker Corned Beef for my husband when he comes home : )
by  Food.com
This Weeks Pick: I don't utilize my slow cooker enough and I really should- it can pump out a pretty delicious meal. Particularly the Salsa Chicken I shared with you this week. It made for such an easy meal and so filling too! I piled the chicken on a burrito with rice, beans, avocado, and cheese. Super yummy!