I am SO excited! My parents are finally coming to visit me : ) I never thought it would actually happen! After all, coming over to Germany is no easy feat for a couple that is very unfamiliar with traveling… but I guess that determination really kicks into gear when you dying to meet your new Grandson : ) hehe see– all I had to do was have a baby to get them to come see me! Haha but really, I can't wait. We have so many great travel plans for when their here, not to mention how nice it will be to have a few more mouths to feed! I love having people to cook for (I bet your surprised…)
I am going to make this cupcakes in a couple weeks for sure- how delicious! Cookie Dough Stuffed Cupcakes…Crazy kinds of yummy!
By Tracey's Culinary Adventure
Cornflake, Marshmallow, and Chocolate Chip Cookies– I am dying to get rid of some extra corn flakes and marshmallows I have lying around. Maybe I will whip some of these up : )
by The Cookbook Chronicles
If you love licking the brownie batter bowl clean like I do, there is no way you would like this cake- Texas Sheet Cake with Brownie Batter Frosting. Oh my…
by Top With Cinnamon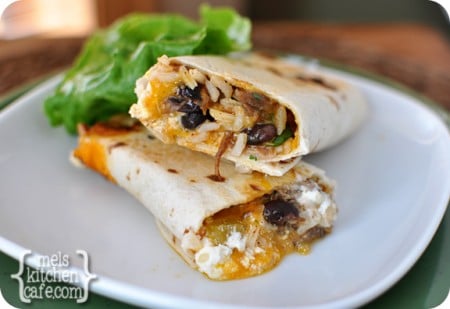 Gosh I love Mexican food- Crispy Southwest Chicken Wraps! Seasoned rice with beans, chickens, and cheese in a crispy tortilla. Sounds delicious to me!
by Mels Kitchen Cafe
My brother LOVES buffalo chicken anything. He would die if I made these for him.
by Doughmesstic
This Weeks Pick: I would be lying to you all if I didn't pick the Antique Caramel Cake I shared yesterday. In the matter of 4 days I had pretty much eaten 3/4 of the cake all by myself. You should have seen the giant slices I plopped on my plate. It was disgusting… yet oh-so-glorious. I suggest you make this cake.